Social Media Marketing
Promote and market company's products and services through social media marketing services
Get Connect
The 2022 revolution of digitalization says that more than 70% of consumers expect a brand to have a social media presence. But, it just doesn't need a social media presence, consumers also expect your brand to have a tailored social media strategy that syncs with your brand. Every business can get the benefits of social media marketing services. Market your business on the networks that connect you with your audience through Facebook, Instagram, Pinterest, LinkedIn, Twitter, etc. Stick to what you know the best- running your business.
Build a Strong Social Media Presence
Develop Brand Awareness
Grow your followers on social media to help you increase your word of mouth and referrals. Our service will help you increase your followers with relevant people.
Build Relationships
Build a strong connection with your audience through engagement, so they are more likely to buy from you. The more engagement you have,  the stronger your connection with your audience will be.
Increase Website Exposure
The relevant traffic to your website will influence your sales and leads. Sometimes you can use social media advertising to drive high volumes of traffic to your website.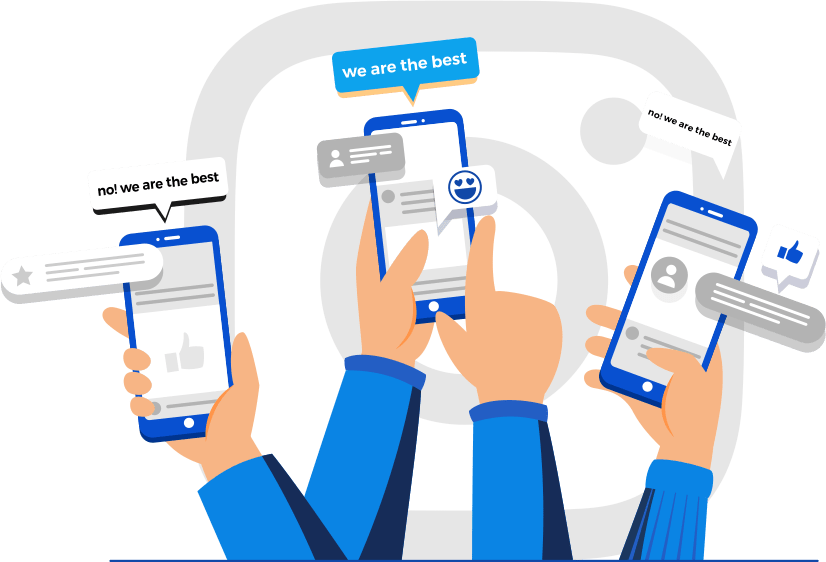 The Major Difference Between
Digital Marketing and Social Media Marketing in General?
 Many people get confused between digital marketing and social media marketing. The fact is, social media marketing is one of the services that falls under the umbrella of digital marketing services. Whereas, digital marketing is a term that consists of many different digital marketing methods that includes social media marketing, SEO (search engine optimization), PPC ( Pay per click) ads, email marketing, content marketing and many more!
So as you can see, social media marketing is just one working component under a bigger digital marketing strategy.  We are a full service digital marketing agency that offers social media marketing in addition to the other services listed above. This is because you want your social media efforts to be in support of and supported by all of your other digital marketing efforts.
What Are the Benefits of Social Media Marketing Services?
Social media marketing has numerous advantages for startup ads well as established brands. 
Get better online exposure
Social media marketing is continuously progressing and adapting to it has become a powerful marketing source for companies and brands. Platforms like Facebook, Instagram, Linkedin, Twitter can help you to dynamically increase exposure and interest in your company. Interact with a broader online community.
Improve search rankings
Search engines are now integrating updates, tweets, and comments into their result places based on the importance of social interaction. More shares of the post across social media channels generate more traffic to your website. More traffic is sent to your website thus improving search rankings.
Target specific audience
It's important to reach the right audience with valuable and engaging content. And marketing through social media allows you to identify and categorize the ideal customers and thus address their needs. Understand your target customers' online behavior and craft relevant content and ads that address their needs.
Customer reach enhancement
A study says that almost 54% of online users use social media platforms to research products. Also, 49% of consumers depend on recommendations from influencers on social media for specific brands. With the best social media marketing strategy, boost your brand awareness in front of the right customers.
Increase in profitability
Social media marketing helps you to reach your ideal clients for your small business or large enterprises. It is an effective method that allows you to showcase your products and services at low costs. Reach unlimited prospects across locations without doing additional work and expenses.
Build Customer trust 
Social media marketing allows you to build thought leadership that helps your brand to create deep and meaningful connections with your customers. We share valuable content that helps you to engage in online conversation about your company to keep a track on your target market and improve brand visivbility. 
Customer Testimonials
What They're Saying
Miracle Beauty Salon
Miracle Beauty Salon

,

Xira Infotech made creative, user friendly and easy to navigate our website for every user. well designed and developed. Great work. Keep it up !
Santosh Steel
Santosh Steel

,

,

Got my website done with Xira, They understood all our requirements and worked upon them. Indeed a fantastic team. loved their strategy regarding SEO as well as SMM
Bombay Salon Spa
Bombay Salon Spa
Xira Infotech has been part of our immense growth in every aspect. They provided what every business on the internet needs - Visibility. with the Help of their creative team of SEO and SMM, we were able to touch milestones in web traffic too.
Laddha Advisors
Laddha Advisors
Greatest appreciation to you and your team for the outstanding job you did for us. The website is just what we wanted, and we were thrilled with the speed your team exercised. We feel privileged to have Xira Infotech as our online marketing partner!
Pestdaddy
Pest Daddy

,

,

We have seen vast difference in our leads with active Social Media Management Campaign run by team xira Couldn't Have Asked More! Thus highly recommending this digital marketing agency to every business looking for online visibility.
LEO PP
Leo Precision Products

,

Our design requirements were specific but Team Xira Infotech understood it completely and delivered us a website that met all our criteria. Kudos to their creative team! It was great working with them. we recommend their services to every emerging business
One of the most profitable digital marketing platforms to increase your business visibility is by using social media. 91% marketers claimed that social media marketing efforts greatly helped to increase their brand visibility and heightened user experience. Our creative team is here to work together to create targeted social media strategies to grab your audience's attention.
Our Core Responsibilities
Strategy Development
Competitive and Market research
Social Media Brand Expansion
Ads Management
Community Management
Conversion Optimization
Frequently Asked Questions
WHY SHOULD I USE SOCIAL MEDIA FOR MY BUSINESS?
Social media platforms are used daily by the majority of people worldwide. You would be doing your brand a disservice not to use these platforms to boost engagement with your target audience and increase online visibility. Many consumers seek out a brand's social media pages or profile to review before deciding to purchase. You must create a social presence for your business, so your existing and potential customers can review your online activity and engage with you in a more casual manner. Consumers who are not ready to purchase are likely to engage in a Facebook chat or reach out via Twitter or LinkedIn, as opposed to requesting a consultation via your website form.
HOW OFTEN SHOULD I POST ON MY SOCIAL CHANNELS?
This depends entirely on the platform as each social channel has parameters that need to be met for you to use the platform in an optimized way. Frequency of posting and the time at which to post differ between social platforms. An excellent social media manager will know these best practices. If you are handling your social media yourself, consider doing some research into the frequency and length of your posts and at what time you should publish your posts.
WHAT ARE PROMOTED OR BOOSTED SOCIAL POSTS?
Some social channels offer you the option of boosting organic posts or promoting them for a nominal fee to guarantee more people see your post. This is a good idea for those posts that do particularly well or are promoting a special offer. On different platforms, you can set up an advertisement directly from the post to increase engagement or set up a more advanced ad through the channel's advertising platform.
WHAT SOCIAL MEDIA PLATFORMS SHOULD I SIGN UP FOR?
It's important to research to find out which social media channels are preferred by your target audience. Armed with this insight, you should make sure to optimize your presence on each of the platforms where your audience is likely to engage. Furthermore, take into account the types of products and services you offer and find the platform that better suits your brand and messaging. And, lastly, account for your business goals and consider the platforms that better support you achieving them.
WHAT IS THE DIFFERENCE BETWEEN AN AD AND A POST ON SOCIAL MEDIA?
When you post content on social media, you are sharing information for your followers and the general public to see organically. However, an ad on social media is paid advertising. You can create your unique ad, target your audience by demographics and interests and ensure your brand is positioned in front of your ideal consumer.
HOW MUCH SHOULD I SPEND ON SOCIAL MEDIA MARKETING?
Your social media advertising spend relies entirely on the amount of budget you can put aside. This is not a particularly expensive advertising route, but the more you spend, the more you derive value and get results. You need to create your social media advertising spend to align with each of the platform's limitations, too. For instance, Facebook has a minimum daily ad spend and it's recommended that you begin investing with a minimum spend. Once you have an idea of what works and what doesn't you can start increasing your budget and quickly enjoy a positive return on your investment.

                          Xira Infotech is a full service digital marketing agency specialized in creating digital campaign solutions across the web, mobile and social media platforms that demands creativity and imaginative thinking to execute brilliant results with quality standards. We not only design and manage high quality web and mobile applications for various businesses, but also drive technologically innovative companies with the context of everyday evolving digital space.